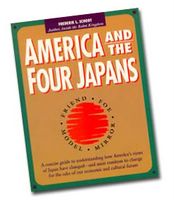 Wisconsin Bookwatch
, August 2005: "Originally published in 1994,
America and the Four Japans
is an analysis of the constantly changing relationship between Japan and the United States that remains timely and relevant as it was a decade ago. Incorporating history, cultural commentary, and opinions from both sides of the Pacific Ocean, it portrays Japan in four different roles as related to the U.S.: friend, rival, role model, and mirror. Chapters briefly survey modern Japanese history, address the trade deficit, warn against wishful thinking on both sides, and reveal the common threads that tie together two strikingly different cultures. A 'must-read' introduction especially for international businesspeople and anyone whose career or personal interest lies in coming fully to grips with the dynamics of U.S.-Japanese economic, political and cultural interaction."